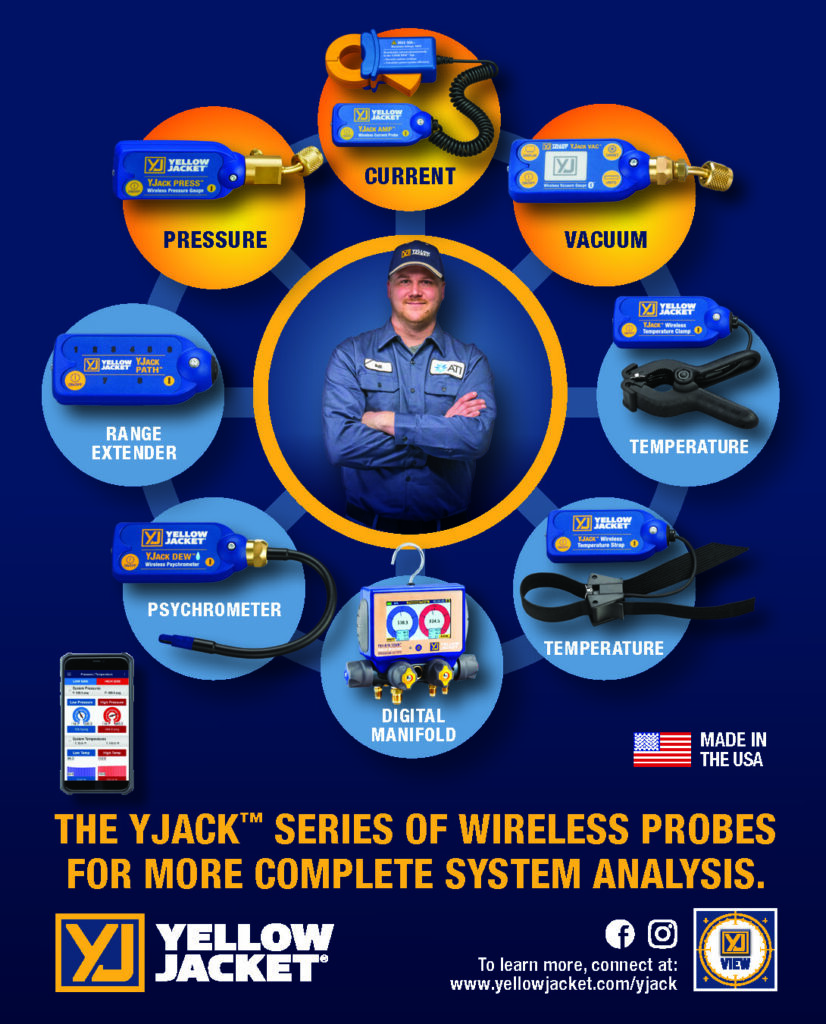 RITCHIE INTRODUCES NEW YJACK™ PROBES
BLOOMINGTON, MN (July 23, 2021) – Ritchie Engineering Company, Inc., the leader in service tools for HVAC/R professionals and manufacturer of YELLOW JACKET® products, is proud to announce the continued expansion of the YJACK™ platform of wireless probes. With even more innovative tools and smart app features for complete system diagnostics, technicians can leave their analog gauges and service report paperwork in the truck.
The YJACK PRESS™ Pressure Gauge includes an integrated charging port to easily adjust system charge while continuing to check system pressure. The compact YJACK VAC™ Vacuum Gauge monitors system evacuation on the spot or remotely, allowing technicians to work more efficiently. The YJACK AMP™ Current Probe takes electrical current measurements and analyzes critical system power information. These new YJACK™ probes are sold separately and as part of three new kits.
The new YJACK™ probes are supported by the YJACK VIEW™ App, which allows technicians to easily receive and analyze live data including system pressure, temperature, vacuum, psychrometric system efficiency, leak test and current draw. Enhanced data logging and customizable PDF reports of system measurement and service information, makes the YJACK VIEW™ App a necessary component to managing customer service information. The YJACK VIEW™ App utilizes Bluetooth® technology to provide seamless integration with YJACK™ probes and P51-870 TITAN® Digital Manifolds, or they can operate independently using a smart device.
Visit www.yellowjacket.com/yjack for more information.