INFICON Introduces D-TEK Stratus Refrigerant Leak Detector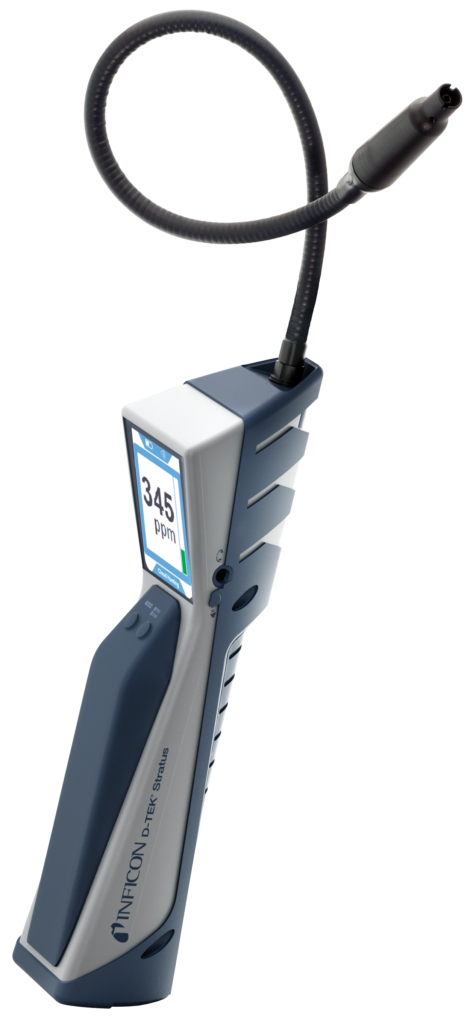 D-TEK Stratus combines the field-proven leak detection reliability of INFICON's D-TEK Select with the cloud hunting capability of a large portable monitor to help find leaks faster. With cloud hunting mode, the large, easy-to read LCD display with ppm readout helps the operator to find the area highest in concentration and then easily switch to pinpoint mode to quickly find the leak. D-TEK Stratus has a sensitivity of 0.03 oz./year (1g/year) and this sensitivity will not degrade over time.
To minimize maintenance, the all new, redesigned infrared sensor offers the longest sensor life in the industry. Easy field replacement of the sensor keeps the technicians working virtually uninterrupted. Additionally, the lithium ion battery is quick to charge and is also easily replaced in the field, when necessary. This revolutionary instrument has a variety of robust features, including automatic and manual zero modes and the ability to detect all CFCs, HCFCs, HFCs and HFOs, blends (including A2Ls), and CO2
(requires optional CO2 sensor. D-TEK Stratus comes in a rugged carrying case and has a two-year replacement warranty.
For more information, contact INFICON,  +1.315.434.1100, email: reachus@inficon.com, http://www.inficon.com.
Nu-Calgon Launches New EasySeal® Ultimate Leak Sealant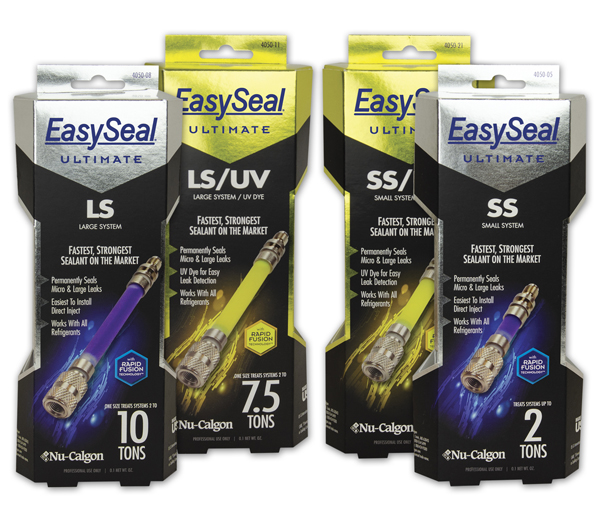 St. Louis, MO – Nu-Calgon has launched a new and improved version of its best-selling refrigerant leak sealant, called EasySeal® Ultimate. The new
EasySeal Ultimate is not only the fastest and strongest refrigerant leak sealant on the market, but it now treats even larger HVACR systems.
The new EasySeal Ultimate features Rapid Fusion Technology™ for a stronger bond and now has the ability to treat systems up to 10 tons in
one application. EasySeal Ultimate also comes in UV dye versions that
feature brighter ultraviolet dye formula.
EasySeal Ultimate LS (Large System) treats systems up to 10 tons, while the large system UV dye product (LS/UV) treats systems up to 7.5 tons. EasySeal
Ultimate SS (Small System) is for systems up to 2 tons and is now available in a UV dye version as well (SS/UV). Both the LS and LS/UV products also come in bulk packs that include six injectors.
For over 70 years, Nu-Calgon has been providing quality specialty products for the HVACR market. The company's complete line of products includes coil cleaners, descalers and refrigeration oils, as well as products for indoor air quality, water treatment, ice machine maintenance and other applications. When it comes to Nu-Calgon products, the name on the outside means quality on the inside. For more information, visit www.nucalgon.com.