Nu-Calgon Launches New EasySeal® Ultimate Leak Sealant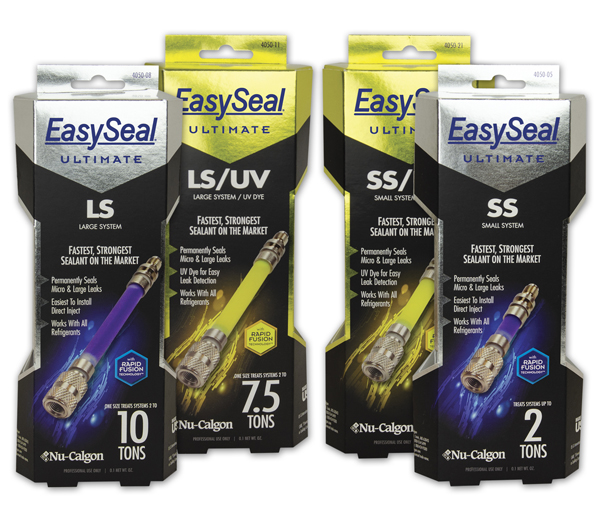 St. Louis, MO – Nu-Calgon has launched a new and improved version of its best-selling refrigerant leak sealant, called EasySeal® Ultimate. The new
EasySeal Ultimate is not only the fastest and strongest refrigerant leak sealant on the market, but it now treats even larger HVACR systems.
The new EasySeal Ultimate features Rapid Fusion Technology™ for a stronger bond and now has the ability to treat systems up to 10 tons in
one application. EasySeal Ultimate also comes in UV dye versions that
feature brighter ultraviolet dye formula.
EasySeal Ultimate LS (Large System) treats systems up to 10 tons, while the large system UV dye product (LS/UV) treats systems up to 7.5 tons. EasySeal
Ultimate SS (Small System) is for systems up to 2 tons and is now available in a UV dye version as well (SS/UV). Both the LS and LS/UV products also come in bulk packs that include six injectors.
For over 70 years, Nu-Calgon has been providing quality specialty products for the HVACR market. The company's complete line of products includes coil cleaners, descalers and refrigeration oils, as well as products for indoor air quality, water treatment, ice machine maintenance and other applications. When it comes to Nu-Calgon products, the name on the outside means quality on the inside. For more information, visit www.nucalgon.com.
RGF Launches the Microcon® Line of Whole Home HEPA Filtration Systems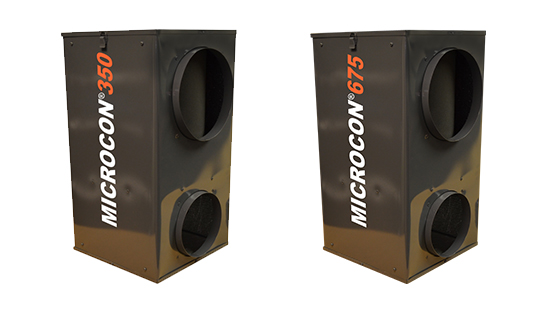 RGF Environmental Group, Inc. adds yet another layer of indoor air quality technology with their Microcon® 350 and Microcon® 675 in-duct, whole home HEPA filters. Microcon® 350 and 675 utilize an ultra-efficient 3-stage filtration process. In stage one, a washable foam pre-filter captures large particulate matter. Within the second stage HEPA filter efficiently traps smaller, harmful and irritating particulate
matter such as pet dander, pollen and smoke. Finally, in the third stage, the activated carbon filter adsorbs toxic chemicals and VOCs.
A key feature of RGF's new whole house HEPA system is the ability to use the existing buildings HVAC ductwork for its clean air distribution, while also having no performance impact on the existing HVAC heating or cooling unit. The side stream designed system utilizes its own internal pressure blower specifically sized to each model HEPA unit. In operation, a portion of return air is drawn through the Microcon® filters, then delivered back into the air supply using an efficient, whisper-quiet fan and motor. The result is measurable and truly clean, HEPA filtered air for the entire conditioned environment. The system filters are designed to be easy to access and also easy to change. The Microcon® 350 is recommended for areas of up to 2,625 square feet, while the larger 675 model can accommodate areas as large as 5,000 square feet. Either model is suitable for residential or commercial use and is easily installed into the HVAC or air handling system by a licensed HVAC contractor. An optional VOC filter upgrade is also available for both units.
Mat Charles, RGF's VP of Sales explains, "The addition of indoor air filtration to RGF's award winning air purification product line ensures that RGF will continue leading the way in the IAQ industry. We are committed to expansion and offering new IAQ solutions. RGF is the one-stop shop for all your IAQ needs." As the leader in the indoor air quality (IAQ) industry with its patented air purification products, RGF is excited to now offer customers a complete range of reliable, high quality indoor air purification and air filtration technologies for residential, commercial, and industrial applications.