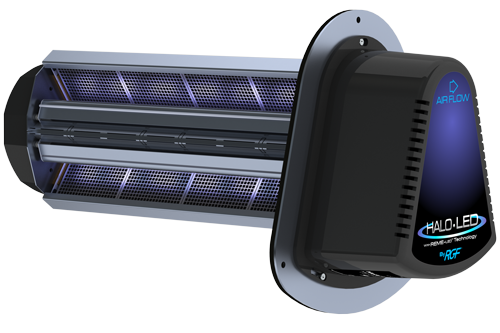 RGF Introduces the First Whole Home In-Duct UV LED Air Purification System
Port of Palm Beach, Florida (January 3, 2020)– RGF® Environmental Group introduces the HALOLED™, the industry's first UV LED in-duct, whole home air purification system that is both mercury free and zero ozone compliant. In addition, the HALOLED™ is certified to meet the performance standards
as required by the California Air Resources Board (CARB). This superior unit proactively treats every cubic inch of air-conditioned space, thereby reducing airborne and surface microbials, bacteria, viruses, mold, smoke and VOCs.
Leveraging bi-polar ionization the HALOLED™ provides the added benefit of reducing airborne allergens, dust and particulates. The new patent pending technology utilizes an exclusive hybrid hydrophilic zinc enhanced
washable ceramic catalyst and is powered by a proprietary low energy, ultra-long-life, LED array. By combining REME-LED™ UV technology along with RGF's proven PHI-CELL® and REME® technologies, the HALO-LED™ provides revolutionary indoor air purification.
RGF® has been researching and developing UV LED based treatment  systems for over 10 years. This technology has advanced to a point where feasible UV LED output power, service life and usable wavelengths have coincided to enable this next generation of products. RGF tested several UV LED array geometries and wavelengths with specific catalytic designs to achieve the best results. Driving currents were optimized to provide the longest possible diode life and the highest possible efficacy. RGF® is now integrating this new LED technology into our existing and future products.
"The disruption and transformation to the lighting industry that visible LED's have had, is exactly what UV LED's will be doing to the IAQ industry very soon" states Walter Ellis, Executive Vice President.
The HALO-LED™ is manufactured at RGF's vertically integrated,  environmentally friendly ISO 9001 certified facility and it is available through RGF's existing HVAC distribution channels. For more information
on the HALO-LED™ visit www.rgf.com.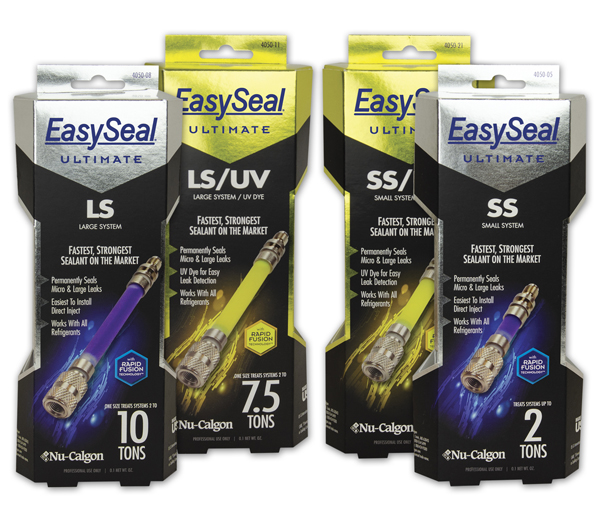 St. Louis, MO – Nu-Calgon has launched a new and improved version of its best-selling refrigerant leak sealant, called EasySeal® Ultimate. The new
EasySeal Ultimate is not only the fastest and strongest refrigerant leak sealant on the market, but it now treats even larger HVACR systems.
The new EasySeal Ultimate features Rapid Fusion Technology™ for a stronger bond and now has the ability to treat systems up to 10 tons in
one application. EasySeal Ultimate also comes in UV dye versions that
feature brighter ultraviolet dye formula.
EasySeal Ultimate LS (Large System) treats systems up to 10 tons, while the large system UV dye product (LS/UV) treats systems up to 7.5 tons. EasySeal
Ultimate SS (Small System) is for systems up to 2 tons and is now available in a UV dye version as well (SS/UV). Both the LS and LS/UV products also come in bulk packs that include six injectors.
For over 70 years, Nu-Calgon has been providing quality specialty products for the HVACR market. The company's complete line of products includes coil cleaners, descalers and refrigeration oils, as well as products for indoor air quality, water treatment, ice machine maintenance and other applications. When it comes to Nu-Calgon products, the name on the outside means quality on the inside. For more information, visit www.nucalgon.com.